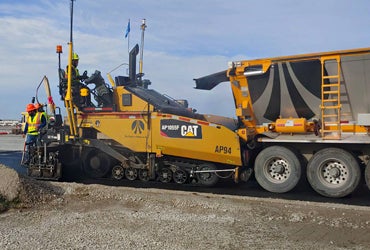 Trimble Roadworks is a non-contact paving control platform that gives you greater flexibility and more control over the mat. This innovative, next-generation paving control platform features intuitive, easy-to-learn software that runs on an Android™ operating system. The state-of-the-art software and hardware configuration is ideal for projects that require meeting a thickness or elevation specification,
Features and Benefits:
Achieve smoothness and accuracy up to the finished surface
Large, 10-inch (25.4cm) Trimble TD520 display for 3D applications
Rugged and durable components for tough construction conditions, rated to protect against dust and water
Easy-to-understand layout for controlling cross slope and material thickness
Improved sensor mobility to easily swap sensors based on application, such as cross-slope to joint matching configurations
Monitor the measured and target values of the cross slope and mat thickness simultaneously
Configurable views allow you to control and monitor the left and right side of the screed with just one operator
Increase efficiency by eliminating the need to pick up the mechanical averaging beam when going over hot asphalt, storm drains or other obstructions
In 3D applications, eliminate any complications involving stringlines: human error, costly setup, maneuvering hazards, etc.
In 2D applications, contractors can easily change sensor value and operate the system in the field with the combined touch screen display and tactile keypads
The Android operating system allows users to download other applications, providing the operator with additional tools
Office to Field Connectivity
Reduce waste and overruns with efficient communication and data transfer with Trimble WorksManager—mobile-friendly software that easily manages data and technology assets across jobsites.
With the Trimble SNM941 Connected Site® Gateway, transfer 3D designs from the office to the machine wirelessly and automatically so that the operator is always using the latest design. Productivity data collected from the machine can automatically sync back to the office.
Trimble 3D Paving Control delivers ultimate smoothness at the National Corvette MMP