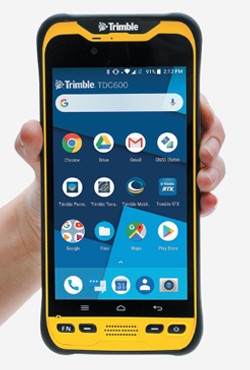 The Trimble® TDC600 handheld is a sleek, all-in-one rugged smartphone with a built-in professional GNSS receiver. Designed for ease-of-use in a wide range of GIS applications, the TDC600 helps you collect and retrieve highly accurate spatial information while staying in touch with the office—all with a single device. It's the smart, productive way to collect data and communicate from the field.
Multi-Functional Design
A modern Android 8.0 operating system with Google Mobile Services certification gives you access to any application—third party or custom-built—to suit your workflow and personalize your device. With the familiar, intuitive interface, you and your teams can start work straight away with no time wasted on set-up and training.
Features and Benefits
All-in-one GNSS data collector and smartphone
Android™ 8.0 operating system
6-inch high resolution sunlight-readable display
Powerful Qualcomm® processor with 4 GB RAM and 64 GB internal storage
Large capacity, user replaceable all-day battery
Real-time positioning with built-in GNSS receiver
Google Mobile Services certified with access to Google Play™ store apps
Ultra-rugged design with MIL-STD-810G certification
4G LTE, Wi-Fi, Bluetooth® connectivity options for voice calls and data
Ergonomic, lightweight and slim form factor
Front- and rear-facing cameras
Supports the Trimble Catalyst™ service and Trimble R Series GNSS receivers
Runs Trimble TerraFlex™, Trimble Access™, third-party or custom-developed field applications
Introducing the Trimble TDC600 handheld