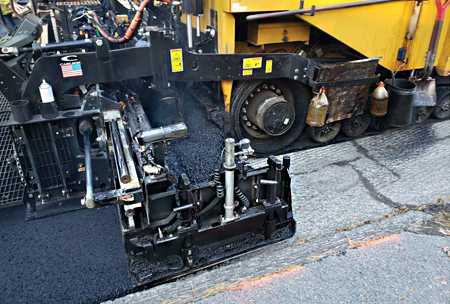 Trimble® Roadworks 2D Paving Control Platform
Trimble Roadworks 2D for Asphalt Pavers is a new platform for paving control systems. The platform incorporates new hardware and software, while also utilizing existing Trimble Earthworks Grade Control Platform hardware and a familiar user interface similar to Trimble Earthworks Software.
Trimble Roadworks is the successor to the Trimble PCS400 Paving control System. It incorporates and enhances the features of PCS400 with refreshed and improved user experience, hardware, kitting, and software. Several additional new features for 2D paving are included in this release.
Features and Benefits:
Lay the finished surface with accuracy to 0.01 feet (3 millimeters)
Pave within a tighter tolerance and get closer to the minimal asphalt thickness specification
Achieve smoothness specifications
Minimize use of expensive material
Reduce labor costs by controlling the screed with one operator
Eliminate operator mistakes with the easy-to-use display interface
Hardware
Trimble Roadworks utilizes many of the same hardware components as Trimble Earthworks:
Trimble EC520 Electronic Controller (IMU not used for Roadworks 2D)
Trimble VM510 Valve Module
Trimble AA510 Audible Alarm
Trimble Roadworks utilizes the ruggedized Trimble TD510 Display:
Two tactile feedback keypads on both sides
Keypads are paired to the system and connected via harnessing
Up to three displays may be used on the Trimble Roadworks System for 2D asphalt paving
Trimble Roadworks features a new housing box assembly for hardware components
Mounted in a single location
Simplified installation
Utilizes extension cables to reach paver connection points
Software
Trimble Roadworks leverages the power of the Android OS:
Intuitive operator interface
Users can edit measured and target values directly
User can change sensor combinations with a screen press
Web interface allows operators and technicians to configure the system
Pair displays to the system
Complete valve calibrations
Manage files
Monitor device statuses
Additional Features
Separation of Controls and Display: the system is controlled by the EC520 and not by the display(s)
Text Items: a slide bar in the lower part of the display may be configured with text items (elevation left, elevation right, and cross slope)
Upgrading: the system can be upgraded without any additional software or tools
Information Sync: Files can be synched to and from the system via USB
Remain in Autos While in Menus: Operators can now enter screen menus without being disengaged from autos while doing so
Information Messages: information messages remain on the screen while operator can enter menus to take corrective action
Edit Measured Values Directly: measured sensor values can now be changed directly using a press and hold action
Numerical Entry: the measured or target value can be entered directly using a numerical keypad
System Snapshots (ZSNAPs): a system snapshot captures a screen shot of the display as well as the valve calibration, log files, and CAN traffic for approximately the last 5 minutes
Trimble LR410 Laser Receiver Support: the LR410 can be utilized as a 2D sensor with Trimble Roadworks 2D
Existing 2D Paving Sensors
2D sensors and sensor kits used in the PCS400 Paving Control System are supported and utilized in Trimble Roadworks. The 2D sensors and kits specifically supported include:
Trimble ST200 and ST220 Sonic Sensor add-on kits
Trimble AS200 Angle Sensor
Trimble CS200 Contact Sensor add-on kit
NA and EU Averaging Beam upgrade kits
Trimble PCS 900 3D Paving Control System and Trimble Roadworks 2D
The Trimble PCS900 3D Paving Control System fo4r asphalt pavers can be installed as the 3D system over the Trimble Roadworks 2D system. If utilizing PCS900 3D for asphalt paving over a Trimble Roadworks 2D system, the 2D machine control selection will remain as PCS400.
Simulator
The Trimble Roadworks simulator is a useful training tool for configuring the operator interface, web interface, and simulate paving operations on a PC or TD510.