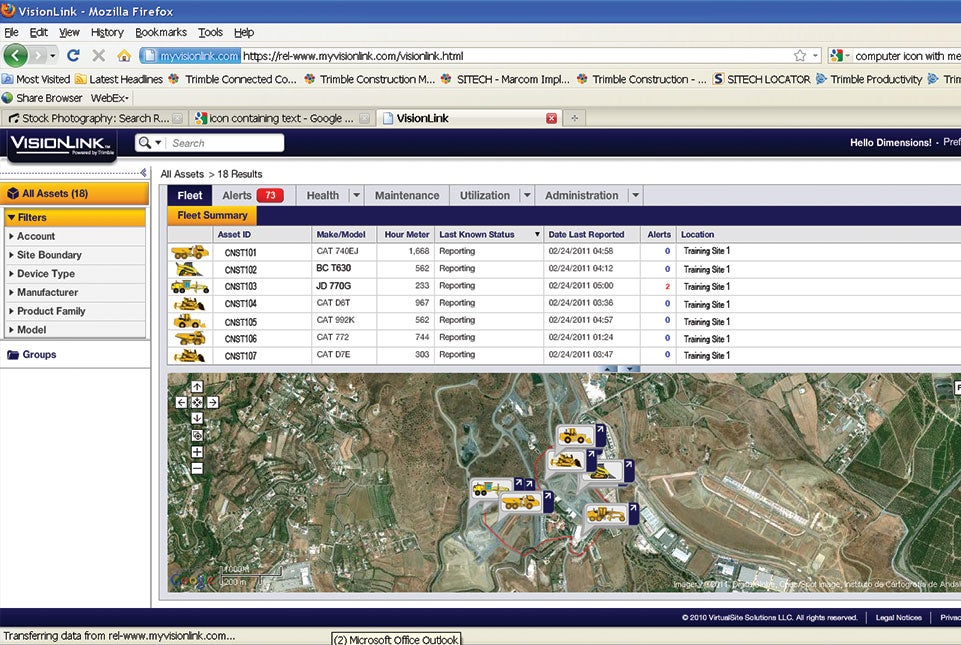 The VisionLink solution from Trimble integrates site productivity, material quantities, and materials movement with asset and fleet management to give you a holistic view of your site so you can make the right decision at the right time. Centralizing and simplifying the management of on-site operations maximizes efficiency, raises productivity and lowers costs for your entire fleet.
Benefits
Know when and where your equipment is working
Examine asset utilization and minimize idle times to reduce equipment depreciation and eliminate unnecessary and costly fuel burn.
Monitor excavator and wheel loader payloads and optimize haul operations.
​Manage and make informed decisions about production efficiency.
See continuously updated surface models based on machine activity.
Scheduled reporting of business-critical information like volume and quality assurance data for easier and more accurate billing, inspections and project progress.
Basic Plan
See where your equipment is, bill it to the correct project, and locate it for pickup, maintenance or refueling. Use site boundaries to create triggers for theft mitigation, inappropriate machine use and compliance with avoidance zones.
Monitor machine hours to plan and manage equipment maintenance and decrease equipment depreciation costs.
Integrate report data into ERP or project management applications to automate data sharing and ensure accuracy.
Required for all VisionLink subscription plans.
Rapid Reporting Plan
Receive reports every 10 minutes containing 1-minute interval data for dispatch, delivery and haul monitoring applications.
VisionLinkUtilization Plan
Minimize idle time to help with fuel economy, and identify equipment that would be better utilized on other sites to reduce costs and increase efficiency.
Reduce owning and operating costs with visibility to estimated fuel usage.
Compare working day hours, runtime hours, and working versus idle time to improve equipment utilization and increase productivity.
Machine Health Plan
Monitor tire pressure and temperature of every rubber tire in your fleet.
Proactively manage and schedule preventative maintenance to extend the tire life, promote fuel efficiency and avoid dangerous blowouts.
VisionLinkIncludes VisionLink Mobile
Included in your subscription plan.
View fleet and asset information in the field on your smartphone or tablet.
Locate assets, monitor utilization and service due, and view asset alerts.