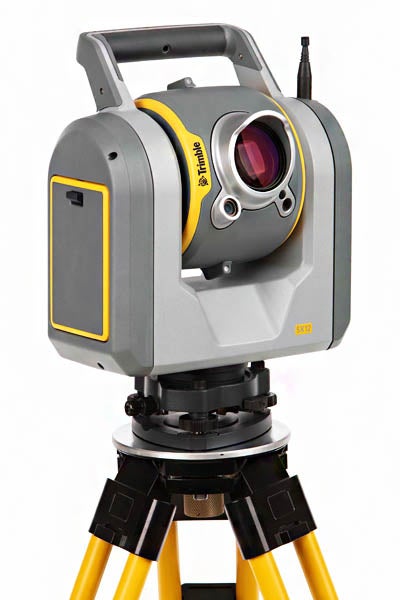 The All-In-One Survey Total Station and Scanner
The SX12 Scanning total Station combines a total station and scanner into one superior instrument. Get everything you need from a robotic total station, along with high-end 3D laser scanning and imagery.
Features and Benefits:
Save time, maximize efficiency, and get more done in the field by capturing additional site information with scan data, images, and point clouds.
Capture Once, Use Many Times – Capture more detail and document features you couldn't before—never worry about field crews missing things ever again. Point cloud and images can be used anytime to extract data that might have not been considered at the time of collection, saving time, and avoiding unnecessary site visits.
Collect with Cameras – Four built-in, high-quality cameras with huge zoom allow you to capture a range of imagery.

Capture reality with point clouds for accurate as-builts in inaccessible locations.
Geo-reference images of the site to record conditions in real-time.
Live site footage for real-time monitoring and quick decision making.
Eliminate the need for a separate camera on site.
Image scans of the same area on different dates allow users to visualize jobsite progress.

Vivid, Eye-Safe Laser Pointer – The green laser pointer is exceptionally small, bright, and still eye safe—with auto focus functionality.
Capture Everything. Faster – Get everything you need from a site and more in just minutes, saving you hours or days of surveying. With the additional site information from scan data, images, and point clouds, you can avoid rework and costly site revisits.
A Robotic Total Station, and More – Achieve high accuracy and reliability for construction site positioning, stakeout, and measurement without the need for a separate device onsite. This powerful combination of high accuracy surveying and 26,600 points-per-second 3D scanning is a game changer.
Reach the Inaccessible – Rapidly collect millions of points and dozens of photos to effectively capture reality for accurate as-builts in inaccessible locations. A great option for safer surveying and avoiding the hassle and time involved in gathering data from dangerous or difficult to reach locations.
Applications:
With the SX12 you can:
Collect millions of points for a 360-degree point cloud.
Control land topographic collection/measurements during site surveying.
Document every visible feature on a project, reducing costly site visits.
Check grade for inspection and monitoring.
Safely and efficiently scan road corridors and intersection details such as roadway surfaces, overhead power lines, and lane markings.
Safely gather accurate survey data in trenches, on cliffs, near moving equipment, and in other hazardous areas without putting a surveyor in danger.
Capture rich, accurate and complete geometrical and visual documentation of as-builts.