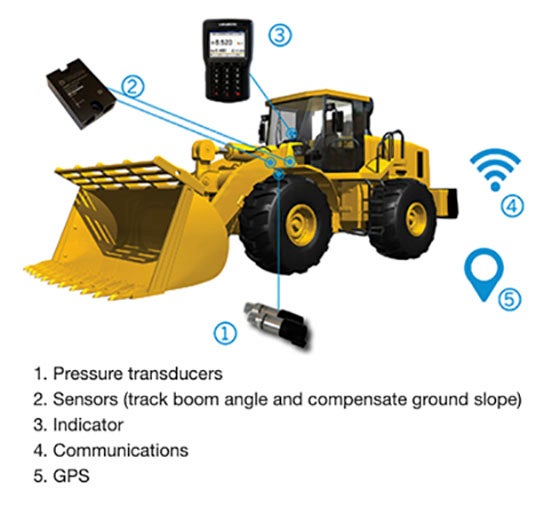 When the pressure is on and customers are waiting, you need to perform faster without compromising accuracy and precision. The new L3180 SmartScale for loaders adjusts for rough terrain, technique, and movement so both new and skilled operators can load with greater accuracy, precision and speed.
What is a SmartScale?
A SmartScale is the next generation of onboard weighing that uses artificial intelligence for more accurate, precise and faster loading. It also connects machines and devices for the collection and syncing of loading data.
Key Features and Benefits:
Weighing artificial intelligence adjusting for rough terrain, technique, and machine movement for with greater accuracy, precision and speed.
Connected Quarry connectivity including built-in WiFi and GPS
New multi-axis solid-state IMU sensors
Best-in-class interactivity and interface
Greater loading accuracy
In-cab performance KPI's (ton/hour, tons, truck count), production metrics (ton/product) and Productive Time Tracking (time/product, time/task)
Data caching during power or signal weakness/loss
Loading location heatmap to monitor incorrect stockpile or truck loading
5.7" color touch screen
eTicket sends load tickets via email
Smarter Weighing—more precise weighing in a wide range of conditions including adjusting for rough terrain, operator technique, and machine movement using new weighing artificial intelligence. The system also features digital CAN-bus sensors for noise immunity and ground slope compensation as standard.
Smarter Data Management—in-cab performance KPI's (ton/hour, tons, truck count) to help operators monitor performance and achieve daily targets. When combined with the InsightHQ quarry reporting portal, personnel can gain access to site production and operator performance KPI's on desktop or mobile devices. Data is presented in dashboard or graphical formats, including a new loadout performance heatmap, powered by a built-in GPS. Loadrite provides data security by caching data locally and then syncing with InsightHQ.
Smarter Interface—5.7" touchscreen display, colorful graphics, and cleaner design. The new touchscreen allows for faster menu navigation and interaction. New loading information detail including customer and product for each job can be customized on the interface by each operator to match their workflow and make it easier to see the right information for maximum productivity.
eTickets—eTickets sends load information to any email, reducing the need for truck drivers to leave the cab while on site, and get back on the road quicker. eTickets can send a midday delivery update to the site foreman's email for accurate and transparent materials delivery information.
LOADRITE L3180 SmartScale Product Video