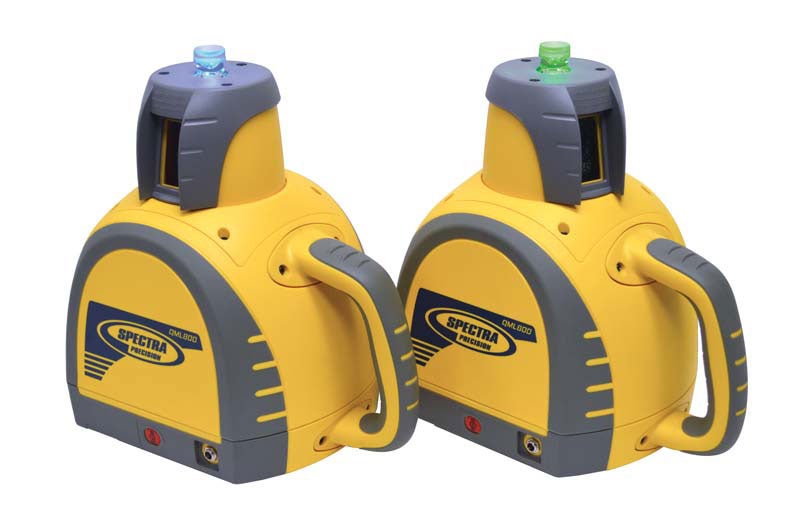 The QuickMark Layout System is a completely new way to layout interior points.The system is composed of 2 lasers that communicate in wireless mode controlled by an Android tablet. The point from any drawing can be entered easily using CAD export or CSV file export. Once all the points are uploaded on the tablet, the user simply selects any point and the lasers rotate to create, within a few seconds, a bright visible X where this point is located. 
There are many possibilities to select a point either directly from the map or by entering its coordinates or even from the list of points previously uploaded.  It is fast, efficient and very easy to use. Complicated shapes, arcs and curves are now easy to layout with no calculations required. Days of layout now become hours. Accuracy is improved and errors are not compounded from point to point. As a result, layout can be completed before other trades arrive. The QML800 system is useful for drywall contractors, MEP contractors, general contractors, construction managers and architects.
The QML800/QML800G is a productive solution your existing staff can use with little training.
Features & Benefits
An Android tablet wirelessly controls 2 lasers -self-contained network
Intuitive, easy-to-use Android application – operators require no surveying background or training
The user simply selects any point and the lasers rotate to create, within few seconds, a bright visible X where this point is located
Desired points located extremely fast – within 5 seconds
Points are accurate – to within 1/8" (3mm)
Complicated shapes, arcs and curves are now easy to layout - no calculations required
Now includes BuildView application software that allows users to load the architectural file and select points directly from the file. No need for advanced point file creation
Includes license for BuilView Office which enables users to open architectural files on a computer to view, analyze and plan layout and build.
Most floors can be laid out in one day or less– complete before materials clutter the floor
Typical 65% reduced layout time and 50% labor reduction over traditional layout methods
No distance measure errors, no math errors
In and out before other trades start storing materials on the floor
Available with green laser beams
Applications
Interior Layout
Drywall
HVAC
Plumbing
Electrical
Warehouse, retail and factory layout