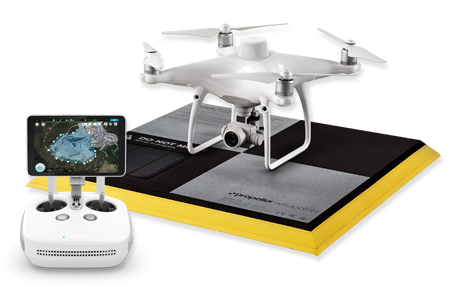 Get consistent results, quantifiable savings, and the confidence you need to map, measure, and manage your worksite using a DJI Phantom 4 RTK drone combined with the high-precision Propeller PPK processing solution. This fully integrated system collects highly accurate worksite survey data – without the hassle and complications of traditional workflows.
Post Processing Kinematic (PPK) is not a different type of hardware, but rather a different processing workflow using an RTK-enabled drone. The difference is how the data from a base station is processed for correction and accuracy. RTK-enabled drones have a high-precision GNSS receiver which gives it the ability to track their own positions accurately in the air — a feature regular drones lack.
When using a Real-Time Kinematic (RTK) workflow, the drone relies on a passive base station to send raw GPS data to the drone, and using that info and it's own GPS to accurately determine its position relative to the base.
With PPK, the drone geotags each image with high-precision coordinates, provided by the on-board GPS unit. While this is happening, an AeroPoint is actively recording its positional data, which will be used as the base for the PPK processing.
After the flight is completed, those two sets of GPS data are processed to produce a precise trajectory for the drone­ — thanks to the photo's timestamp's which allow the photo center to be determined from the trajectory. Knowing the offset after the fact lets us rewrite the initial, less-than-accurate on board GPS data, giving precise geotags for the drone's imagery.
What's in the Box?
1 - DJI Phantom 4 RTK Aircraft Body
1 - Remote Controller
4 - Propeller Pair
2 - Intelligent Flight Battery
1 - Remote Controller Intelligent Battery
1 - Intelligent Flight Battery Charging Hub
1 - Intelligent Battery Charging Hub
1 - AC Power Cable
1 - AC Power Adapter
1 - Gimbal Clamp
1 – Micro SD Card (16GB)
1 - Carrying Case
1 - Micro USB Cable
1 - USB-C Cable
1 - USB-C OTH Cable
1 - AeroPoint
1 - DJI Shield Protection Plan
About the Camera
The DJI P4R's camera has an F2.8 aperture, a mechanical shutter, a large one-inch sensor, and a 20 megapixel CMOS sensor giving you brighter, more detailed imagery. In addition, the DJI P4R features improved camera capabilities for mapping through a new lens distortion recording process. Each DJI P4R camera goes through a calibration process that measures the distortions of the lens, and records the corresponding undistort parameters. The camera allows users to output the original images without distortion correction as well as the undistort parameters in the XMP file for post-processing.
About the Controller
The new, ultra bright 1080 pixel display is more than twice as bright as most tablets. You're able to see your flight clearly, even in direct sunlight.
Built-in 5.5 inch display
Up to 1,000 nits brightness
Works in low temperatures
Supports hot swappable batteries
Pre-installed GX RTK App can run Photogrammetry, Waypoint, and other mission types
OcuSync video transmission
Hensel Phelps is 3D Modeling, Managing Hawaii's Inouye Airport Build with Propeller Platform